Tim Attis
PADI Staff Instructor
Timothy Attis is a seasoned dive instructor with a deep-rooted passion for the underwater world. Born and raised in South Florida, Timothy's love for diving was ignited at a young age as he explored the vibrant reefs that surrounded his childhood home. Since 1988, he has been actively diving, accumulating over 3000 dives and honing his skills as an expert in the field.
Timothy's dive journey has taken him across the globe, and for the past 17 years, he has made South Korea his home. As a PADI staff instructor, Timothy has dedicated himself to teaching and sharing his love for diving with others. From Open Water Diver to Divemaster, Timothy has the expertise to guide students at all levels, instilling in them a deep appreciation for the ocean's wonders and the importance of responsible diving practices.
Timothy's wealth of experience and knowledge as a dive instructor is matched only by his unwavering commitment to safety, conservation, and education. With his friendly demeanor, patience, and extensive expertise, Timothy is a trusted and respected figure in the diving community. When he's not underwater, you can find him advocating for marine conservation, exploring new dive sites, or sharing his passion for diving through writing and photography. Timothy Attis is a true ambassador for the world beneath the waves, inspiring others to discover the magic of the ocean and protect it for future generations.
Gene Kim
PADI Staff Instructor
Gene Kim is a dedicated PADI scuba diving instructor, a passionate aquatic adventurer with an impressive portfolio of experiences spanning the globe, but with particular fondness and expertise in the exotic underwater realms of Southeast Asia.
Leveraging his encyclopedic knowledge of marine biology and underwater geography, Gene's tour-guiding expertise has exposed his students to the indescribable beauty beneath the world's surfaces.
Passionate yet professional, his commitment to instruction is rivaled only by his commitment to responsible scuba practices. To Gene, the breathtaking beauty of the underwater world is a treasure that must be respected, protected, and shared responsibly.
Whether he's guiding beginners through their first nervous breaths underwater or leading experienced divers through wrecks or caverns, Gene's enthusiasm and care for both his students and the marine environment shine through. His dedication not only creates exceptional diving experiences but also cultivates a deeper appreciation for our ocean ecosystems among his students, thus fostering the next generation of responsible underwater explorers.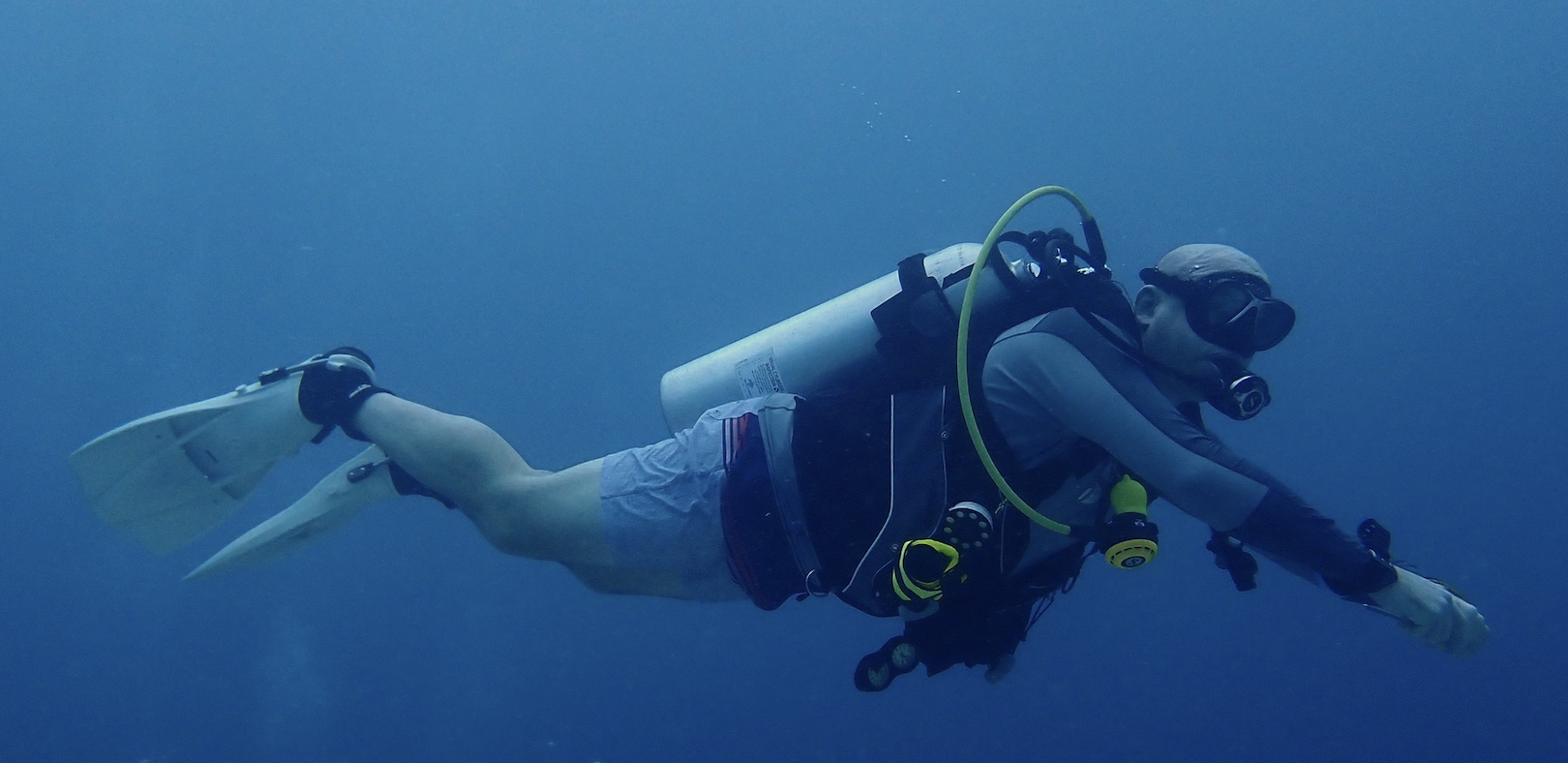 Simon Gorton
Divemaster
Simon Gorton is an experienced divemaster and dive guide, known for his exceptional skills and unwavering commitment to student safety. With a passion for exploring the underwater world, Simon has dived in various locations across the globe, but Bali holds a special place in his heart.
Simon's love for diving began early in his life, and he has spent years honing his craft and gaining extensive knowledge about marine life and underwater ecosystems. His dedication to continuous learning and staying up-to-date with the latest dive techniques and safety protocols has earned him a reputation as a trusted and reliable dive professional.
Simon joined Expat Divers in Korea in 2018 and has since become an integral part of the team. He takes pride in guiding divers of all skill levels, from beginners to experienced divers, ensuring that they have a safe and enjoyable diving experience. His friendly and approachable nature makes him a favorite among divers, and his keen eye for spotting marine creatures and unique dive sites has earned him high praise from fellow divers.
When Simon is not underwater, he enjoys sharing his knowledge and passion for diving with others, conducting dive briefings, and providing valuable insights on marine conservation. His commitment to environmental preservation and responsible diving practices sets an example for others to follow.
With his wealth of experience, keen attention to safety, and unwavering passion for diving, Simon Gorton is a highly respected divemaster and dive guide, making a positive impact in the world of diving.
Russ Krogh
Master Instructor - Consultant
Russ Krogh is a renowned figure in the South Korean dive community, known for his extensive experience and passion for scuba diving. With almost 30 years of diving under his belt, Russ has dedicated his life to exploring the underwater world and sharing his knowledge with others.
As a PADI Master Instructor, Russ has trained and certified hundreds of students, instilling in them a deep appreciation for the beauty and diversity of the ocean. His patient and thorough teaching style has earned him a reputation as a trusted and respected instructor, with a long list of loyal students who have gone on to become avid divers themselves.
Russ's expertise extends beyond teaching, as he has also been a consultant for Expat Divers in Korea, providing valuable insights and guidance on diving operations and safety. He has also managed his own scuba shop in Korea, called Deep Blue Quest, where he built a thriving community of divers who looked up to him as a mentor and leader.
With his vast experience and knowledge of the local diving conditions in South Korea, Russ is considered a legend in the dive community. He is known for his unwavering commitment to safety, his deep respect for marine life, and his genuine love for sharing the underwater world with others. Russ Krogh's contributions to the diving community in South Korea have left a lasting impact, earning him a well-deserved reputation as a respected and revered figure among divers and enthusiasts alike.